The Problem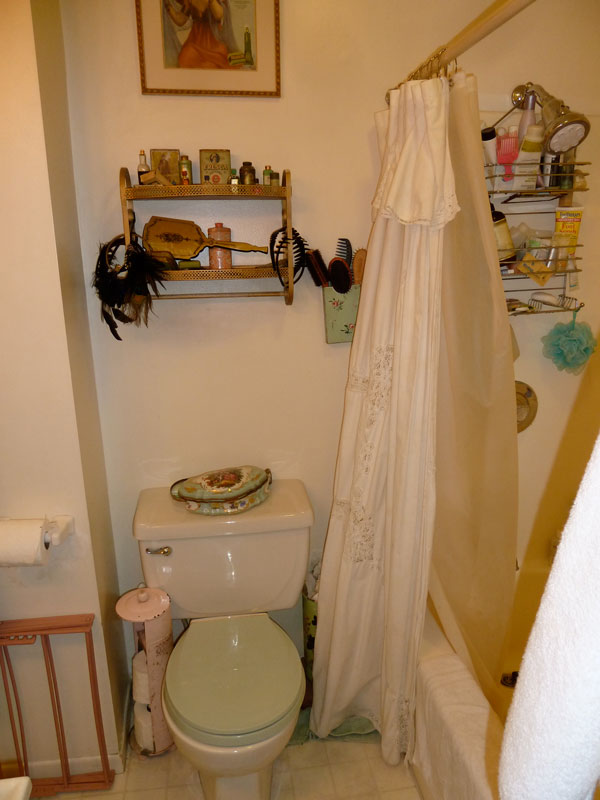 This tiny bathroom was falling apart, which was a very good thing, as the 70's decor needed to go and so it did — every last bit of it. Only the configuration stayed the same, due to space constraints.
The design took shape around an initial purchase of a Victorian cabinet, which is the first thing one sees upon entering the room. Vintage style black and white tile in striking patterns was installed on the floor, and in the shower and sink areas — the latter part created around a single, original Arts & Crafts decorative tile, which works perfectly with the hexagonal shape of the sink.
All plumbing and cabinetry was custom built, along with a small hinged window adorned with reeded glass, adding additional period character to the tiny space. The other fixtures are vintage reproductions, including Kohler tub and toilet and Rejuvenation light fixtures, which fit in perfectly with the deco feel of this jewel box of a tiny bathroom, which was painted an unusually beautiful shade of teal (resulting from a happy paint-mixing accident!) as a final embellishment. The result is a space that's so aesthetically pleasing that its small size ceases to be an issue.
Don't be shy. Get in touch!