Los Feliz Hills
Living Room
The Problem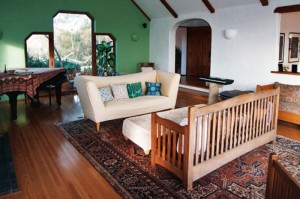 My client had gone through a big change in life and decided to make big changes to her home as well. Her living room was boxy and masculine with heavy Mission furniture that just didn't suit her anymore, so the concept was to veer towards the feminine, using curvilinear shapes. Blending exotic ethnic antiques and custom international pieces with unique customized mid-century elements, we created an eclectic and comfortable stylish sanctuary with several conversation suites — perfect for entertaining.
Details include the use of soft yet durable fabrics on every major furniture piece (to withstand anything her two young sons would expose them to), a game table, made from multi-toned Argentinian "Ibarra" wood, complimented by four comfortable yet extremely reasonably priced Indonesian chairs — two upholstered in one color way, two in another of this gorgeous "Matisse" printed velvet, and a third color way of this striking textile is used for the accent pillows on the facing Shri Lankan daybed. Next to this comfy chaise lounge is a giant, rare, vintage Turkish tea pot. In the opposite corner, a French 1960's wood-framed easy chair sits next to a large vintage lamp/table combination with a mica arts & crafts shade, creating a cozy reading corner. The piano is protected with a custom silk cover, embellished with beaded tassels. Custom pillows, in various shapes and sizes, are scattered across the semi-circular sofa, upholstered in blue chevron velvet. The 1950's French Roger Capron "Herbier" coffee table features his signature ceramic tiles with tree leaves imprinted into them. Grounding the entire room is a large hand-knotted Tibetan rug which inspired the color scheme.
Don't be shy. Get in touch!